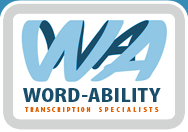 home
Since 1989 when WORD-ABILITY was established to provide accurate, reliable, confidential transcripts in a timely manner, our excellent workmanship and professionalism still stands true.
Christine Yearwood Pawinski is the original entrepreneur and continues to own and operate WORD-ABILITY with the integrity that has grown her company through client recommendations to one of the premiere transcription companies in Canada.
Although our speciality is providing transcription services to Law Enforcement agencies at all levels of government and Corporate Security Investigators in various industries, we also provide transcription services to the financial, investment and entertainment sectors. All our services can now be offered in French!
We understand that deadlines are important and we make every effort to meet your timelines.
Copyright © 2007 - 2017 Word-Ability Inc.
All rights reserved.