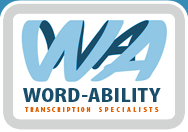 services
Transcription Services
Technology is rapidly changing transcriptions and we stay at the forefront. Today at WORD-ABILITY we provide verbatim transcripts from a variety of media sources. Although we are fully digital, we are capable of transcribing from micro, mini and standard cassettes tapes or even VHS. Digital files can be uploaded directly through our secure website eliminating the time delay of ground delivery. Access to our sites can be set up within minutes.
While we strive to provide a timely service, usually overnight for most files, we will not compromise quality for speed. If however, a deadline is looming in the near future, let us know and we will work to meet your timeframe. We not only transcribe the spoken words but will also include paralanguage, sounds, and speech flaws. We can also note body language cues and provide time codes upon request. Alternatively, not all transcriptions need to be verbatim. We can edit the imperfections keeping the message intact and accurate. Simply tell us what you require.

We now offer English and French transcription!


You have the words...we have the ability!
Copyright © 2007 - 2017 Word-Ability Inc.
All rights reserved.