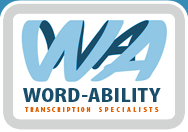 about us
Christine Yearwood Pawinski started WORD-ABILITY in the fall of 1989 and remains the Sole Shareholder of Word-ABILITY Inc.
Prior to developing WORD-ABILITY, Christine gained valuable skills and experience working for the Toronto Police Service where she developed an in depth understanding and love of technology and the endless communicative possibilities. She has a thorough understanding of the accuracy, timeliness and confidentiality required for working with criminal information and has worked on several high profile cases. She gained further experience and expertise from her various positions in the legal and financial fields, government agencies and technology companies.
Her extensive and varied background and her exceptional work ethic provided the springboard for launching WORD-ABILITY and bringing it such success for over 20 years. As a result, her clients reap the benefits of her experience in the valuable service which she provides.
Christine has served on various boards and committees as her zest for learning never wanes. She attends several seminars, conferences and networking opportunities in order to stay abreast of changes in the industries in which she specializes. Her ongoing self improvement strengthens her knowledge base ensuring accurate verbatim transcripts.
Copyright © 2007 - 2017 Word-Ability Inc.
All rights reserved.