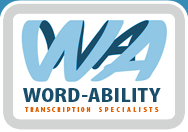 PRIVACY POLICY
Information Collection, Use, and Sharing
WORD-ABILITY Inc. is the sole owner of the information collected on this site. We will not share your information with any third party outside of our organization. We take precautions to protect your privacy. When you submit sensitive information via the website, your information is protected both online and offline. The computers/servers in which we store personally identifiable information are kept in a secure environment.

Waldemar Pawinski
Privacy Officer



Last updated: November 2013.
Copyright © 2007 - 2017 Word-Ability Inc.
All rights reserved.